Wisdom Tooth Removal as Early Prevention
If a wisdom tooth erupts at an odd angle or is impacted, it can cause excruciating pain and lead to gum disease or severe dental health problems. Dr. Art Carpenter cares about your comfort and provides oral conscious sedation at our Kenilworth, IL, practice to make your wisdom tooth removal as quick and comfortable as possible. Dr. Carpenter is committed to providing high-quality dental care with a conservative approach.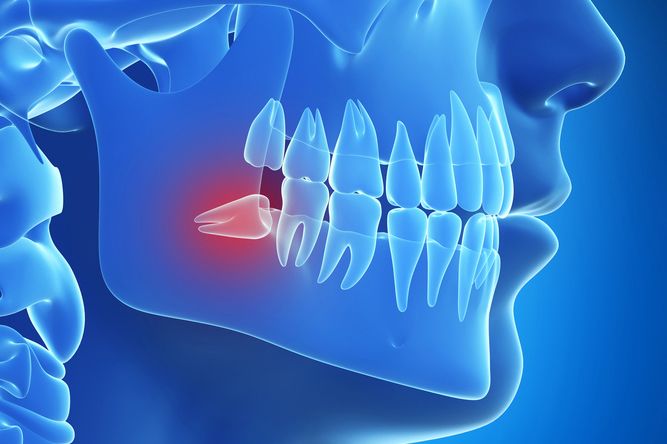 The Importance of Wisdom Tooth Removal
Located at the back of the mouth, wisdom teeth are the last set of molars to erupt. Some patients function fine with their wisdom teeth while others never develop them at all. However, the vast majority of people will need to have their wisdom teeth extracted at some point.
Sometimes, when a wisdom tooth can only partially break through the gum line, bacteria build up in the opening in the gums and cause an infection. Even if the tooth does fully erupt, it may come in at an angle and throw your bite out of alignment. Furthermore, the longer a wisdom tooth is left alone, the deeper the tooth root can grow and the more difficult it is to remove. Consequently, it is often much easier to simply remove wisdom teeth as a preventive measure, whether they are causing pain or not.
How Do I Know if My Wisdom Teeth Should be Removed?
Although many problematic wisdom teeth are completely asymptomatic, some of the most common signs of an infection are pain or tenderness around the wisdom teeth. You may also notice redness, irritation, or swelling as well. If you experience any of these symptoms, you should schedule a dental consultation right away to prevent further issues from developing.
Wisdom Tooth Removal Process
Removing a wisdom tooth is often no different than a regular tooth extraction. The procedure usually falls into one of two categories: simple and surgical. For both methods, Dr. Carpenter will administer local anesthesia so that the tooth and surrounding gum tissue remain numb through your visit. If you have decided to receive oral sedation, he can administer this before beginning the procedure.
Simple Extraction: This type of extraction is performed when the crown of the tooth is fully erupted. Using special dental instruments, Dr. Carpenter will gently loosen the tissue around the tooth and carefully rock the tooth back and forth to lift it from the socket.
Surgical Extraction: If a tooth is impacted, Dr. Carpenter will perform a surgical extraction. To access the wisdom tooth, Dr. Carpenter will make a tiny opening in the gums and carefully remove any bone that is covering the tooth before extracting the tooth.
In most cases, patients can return home immediately after their appointment.
A Safe Recovery
Before you leave the office, Dr. Carpenter will provide you with a detailed list of post-operative instructions to ensure a swift recovery. During the first 24 hours after surgery, cold compresses can help alleviate pain and reduce swelling. Over-the-counter medications can also minimize any discomfort you experience in the days after your appointment.
Learn More about Wisdom Teeth Removal
If you are experiencing pain, tenderness, or swelling behind your molars, you may want to consider scheduling an appointment with Dr. Carpenter. Contact us online or call our office at (847) 251-5004.